Audible Discount Codes December 2018
Use our Audible vouchers for a wide range of products and purchase them at incredibly low prices. These Audible discount codes expire soon, so act today and save big.
VoucherBin > Stores >

Audible

:

9

Active Vouchers



---
Shop for fiction, non-fiction, classic and comedy audiobook from Audible and save up to 70% on your purchase. Limited time offer!



---
Click on this link to download audible book and get up to 50% off for first three month.



---
Get your hands on a free audio book with this promotion. After all, everyone loves a freebie!



---
Choose from world's largest selection of titles only at Audible!



---
Enjoy the free audio book for 30 days trial only at Audible!



---
Follow through this link to grab Audible membership for just £1.99 per month.



---
Enjoy your subscription to Audible for £7.99 a month only at Audible!



---
Register yourself by filling the basic details at Audible and download any audiobook for just £7.99. Check out now!



---
Get 12 books downloaded to your mobile, tablet and MP3 player with annual membership for just £69.99. Offer valid for limited time!
About Audible
Audible, which is now the subsidiary of Amazon, is the world's largest library selection of audio entertainment, educational programming and information on the Internet. It makes available digital audiobooks, TV and radio programs, and voice versions of newspapers and magazines. Its world's largest selection of titles include best sellers, new releases, romances, sci-fi, classics, and a lot more.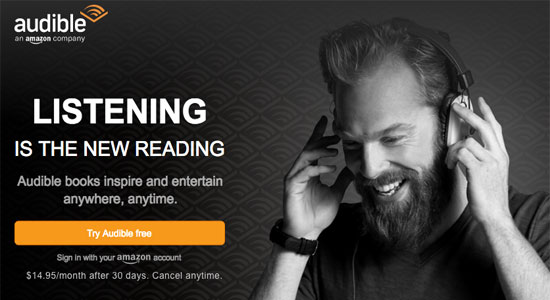 Moreover, Audible has won a number of accolades which includes 24 Audies and the prestigious Grammy. In fact, the satisfied customers and the fact those Audible members listened for almost 1.2 billion hours in 2014 bears testimony to the fact that it has even succeeded in striking a chord with its consumers. The disruptive and technology-driven company has earned 100 patents since 2008 and is continues to offer value to its customers.
Top Audible Categories Offered
Action & Adventure- Stuck in your daily mundane routine? Missing out on that adrenaline rush? The Action & Adventure audiobooks will give you a heart-racing high-octane experience. The collection is a perfect place for people who are intrigued by danger and conflicts and live life on the edge.
Fiction- Need a break from reality and want to unleash the wilderness of your imagination? All you need is to get your copy of audiobook from this section and move into your own world of fantasy.
Comedy- The most wasted of all days is one without laughter. But the audiobook membership from Audible will ensure that you never ever have such a day in your life. The comedy section is going to tickle your funny bone for sure.
Crime & Thrillers- Experience the turning and twisting tunnels of the mind-boggling world of crime fiction in this section and solve the mystery of what you want to read next. Still not satiated? The thrillers in this section will provide you with all the engrossing psychological twists, nail-biting anxiety and mind bending terror.
Health & Personal Development- To be better than what you were should be the only goal in one's life be it physically, emotionally or spiritually. The audiobooks under this section will help you in your goal of continuous improvement.
Sci-Fi & Fantasy- Does the future of mankind excite you? Constantly thinking about those flying saucers and life in the outer space? Love those breathtaking shots and plot twists in Hollywood movies? This is the section where you will find fresh ideas at every turn of the page. Pay as low as possible with latest books, music, video voucher codes available at our site and shop from a wide range of romantic books, fiction, nonfiction, action thriller books from your favourite online store.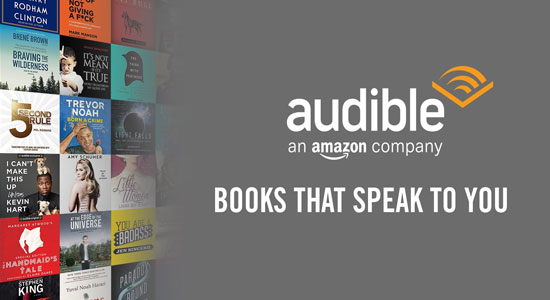 Special Offers
Can't satiate your hunger for reading? With one audiobook, you can get two for £14.99. So double your listening and save 6% per title you listen to!
30-Day Free Trial
Are you in love with podcasts but don't have the budget? Audible offers you a 30-day free trial that entitles you to choose one audiobook from a library of world's largest selection of titles. After the trial period, just pay £7.99/month which will get you one credit from us every month to choose the audiobook of your choice. Audible assures you that there is something to suit everyone's eardrums.
Redeem Your Voucher Code
You know what everyone loves? A promotional code. If you get your hands on a special offer from Audible, shop for your favourite audio book and add it to your basket. After adding it to basket login as an existing customer or signup and enter the promotional code in the box and apply. Review your basket and proceed towards payment. Check out Readly and Bangzo, which offers a new way to listen and read digital magazines on your tablets and smartphones.
The very mission of Audible is to unleash the power of the spoken world and the video beautifully captures the essence of what Audible believes in.
Mobile App
Get the Audible app for your Android, iOS, Windows or Kindle and all your favourite books that you have purchased will be waiting in your digital library to be heard anytime, anywhere. They belong to you and will stay with you forever. You can listen to them at your will by streaming or downloading them on your devices such as mobile, desktop, tablet or mp3 player. Also, you can listen to your audiobooks on your Amazon Echo.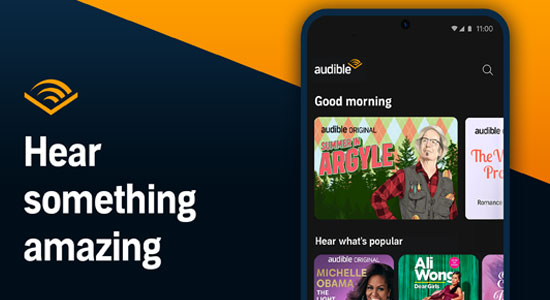 Gift Cards & Membership
A book is a gift that can be opened again and again. And an audiobook is a gift that can be heard again and again. Through the all new Gifting Centre, you can purchase audiobooks and memberships for family, friends and colleagues. You can also choose your e-card design and write a personalized message for your loved ones.
Audible Membership
Become member of Audible and get and access to exclusive deals and offers on your ancillary audiobooks over and above the monthly credit allowance that you have up to 70% off.
Exchange and Cancellation Policy
Audible's Great Listen Guarantee makes your life easier by allowing you to exchange your audiobook for another one if you happen to not like it. All Audible want is you to have the best experience with them, so it doesn't matter whether you finished the book or didn't like it. Audible will replace it without asking any questions and that's a promise. Also with Audible, it's really easy to terminate your subscription in case you decide to leave for any reason. They provide 24/7 support through our customer care team both via telephony and online medium. The membership allows great flexibility to halt or cancel your subscription at any moment.
Social Media Presence
Contact Details
Audible Ltd
26-28 Glasshouse Yard
1st Floor, London
London
EC1A 4JU

Customer Care: 0800 496 2455
E-mail: customercare@audible.co.uk