Asda Groceries Discount Codes October 2020
Use our Asda Groceries vouchers for a wide range of products and purchase them at incredibly low prices. These Asda Groceries discount codes expire soon, so act today and save big.



---
Sistema Twist And Sip Bottles priced at £2.50 each by Asda Groceries are much more convenient than the coventional ones as it efficiently eliminates the hassle of a cap entirely.



---
Buy Asda Groceries online for delivery straight to your door at £5 per month or collect in store for free.



---
Purchase Cat & Dog Meaty food priced at £2.50 each by Asda Groceries and see your lovely pet feast on it!



---
Make your picnic perfect with by getting any 2 picnic items for just £3 at Asda Groceries!



---
Gift the Lego Batman Lunchbag to your little ones and see them smile! Get it from Asda Groceries at £6.



---
Crafted from the tree of life, Whitney Neill Handcrafted Dry Gin is now available at Asda Groceries for just £20!



---
Get 12-Pack beer at Asda Groceries for a price of £21 and let that party begin!



---
Buy and enjoy 3 units of original cider at Asda Groceries for only £21.
About Asda Groceries
Asda Groceries is a very popular online grocery selling platform which gives you access to a large range of products that reach your homes and that too at the most affordable prices. It is a trusted grocery chain in UK which also sells online and is a platform which makes grocery shopping very easy. You can also order products online and collect them for free from over 600 locations across the country.
Grocery shopping platforms like Asda Groceries help you save several monthly trips to the local stores and enable you to shop conveniently. They not only bring you a price guarantee but avoid the need for you to carry heavy groceries from store to home. No matter what you are looking for, you will find it at Asda Groceries. To know more, you can go through the following given information.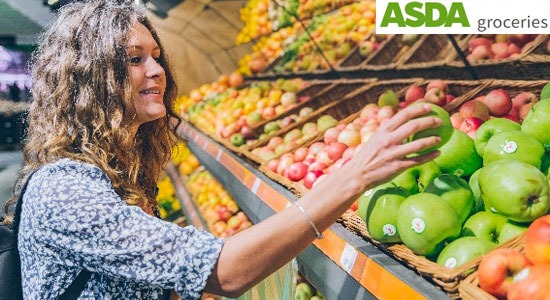 Irresistible Offers
Shopping at Asda Groceries not only lets you enjoy all grocery products at the same place but also gives you the chance to avail wonderful discounts and offers. The following is a list of the top offers that are currently available to you at Asda Groceries:
Half price delivery pass for 12 months.
Get 10% off when you use the ASDA price guarantee.
Free click & collect service on ordering all grocery items.
Besides these tempting offers and discounts, you can also avail special discounts and save your hard earned income by going into the category called 'special offers' given on the website. This category gives you access to all those special promotions that are currently running on the online grocery store. You can also save your hard earned money by following Asda Groceries Twitter account and get access to latest deals and offers that are updated frequently. Similarly, you can also check Ocado for buying fresh groceries, household essentials, toys and more at low price.
Top Products
You will find a diverse range of grocery products when you shop at Asda Groceries. This platform is a complete solution to all your everyday grocery needs and brings products of the highest quality. The following are some of the main product categories from which you can shop at the website.
Fresh foods
Chilled foods
Frozen foods
Drinks
Health and beauty
Laundry and household
Pets
Baby, toddlers and kids
Home and entertainment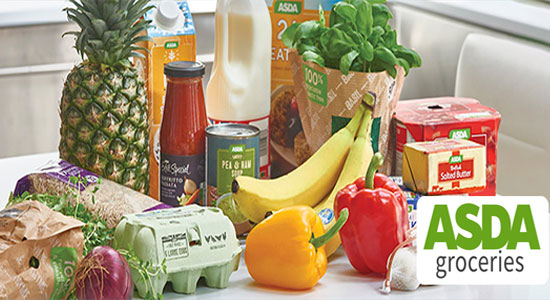 Besides shopping through these categories, you can also shop by many other ways at Asda Groceries. You can shop by price, by brand and in certain other ways as well. This makes your shopping experience much better and also time saving. You can also check our other deals for using vouchers codes on food & drink and enjoy healthy and happy living.
Save Using Voucher Code
Another brilliant way to save on Asda Groceries is by making use of your vouchers. Yes, vouchers enable you to get price reductions on your grocery shopping and hence save a considerable amount of your monthly income. If you wish to know the method of redeeming vouchers on the website, you can go through the following given information.
The first thing that you need to do is to log on to the website and browse the various broad categories given.
Now select the category of your choice and then the product/products that you would like to purchase.
Keep adding the selected products to your shopping cart.
Once you are done adding all the products to cart, visit the cart and then proceed towards the checkout process.
At this point, you will be asked to enter the promotional or voucher code.
Enter the code and the voucher will be redeemed on its own.
You will thus get a certain discount on your shopping!
Delivery & Returns
The retailer follows an extremely simple and convenient delivery and returns policy so that you don't have to face any difficulty. It delivers throughout UK but the delivery time may vary, depending upon your exact location. By applying for the delivery pass you can enjoy as many deliveries as you want and not considering the price.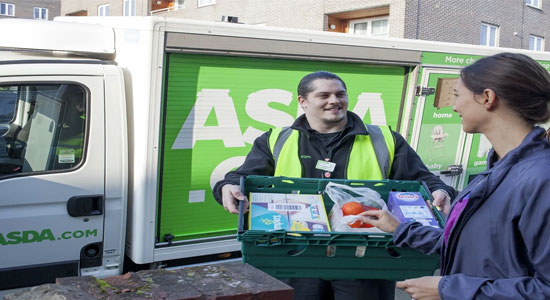 As far as returns are concerned, you can order a refund or exchange for unwanted products within 3 days after delivery or collection. You will get a refund amount within 3-5 days in your account.
Gift Cards
One of the best gifts you can give someone is something useful and what better than Asda Groceries gift card. Yes, you can purchase a gift card from the company of any denomination of your choice and send it online! Yes, gift cards can easily be bought and sent and may prove to be a pleasant gift for anyone you know.
Customer Support
What makes Asda Groceries so popular is the fact that it not just offers a wide range of products but also excellent customer service. No matter what your doubt is, the customer service team will be able to help you out and in the most satisfactory way. You can either go through the FAQs on the website or contact the support team through mail, phone or by writing in to the company through the website itself.
Social Media Presence
You can remain in close contact with Asda Groceries by following it on the various social networking handles that it has. This will enable you to remain well updated with all the latest. The following are some of the links you can follow.
Contact Details
Asda Groceries
Southbank,
Great Wilson Street,
Leeds,
LS11 5AD

Call: 0800 952 6060
Email: service@asdacustomerservices.co.uk