---
Buy personalised gourmet jelly beans bucket for just £12.97!



---
Receive free delivery on select products. Hurry, offer valid till limited time only!



---
Follow through this link to grab taveners black and white mints at just £2.47!



---
Click on this link to buy bonfire toffee from £2.17!



---
Enjoy your savings to the fullest on purchase peanut brittle for just £2.27!



---
Time to pull the trigger and enjoy the rush of savings on apple liquorice stripes at £2.27!



---
Treat yourself more than you imagined and grab jelly pizza slices at just £1.97!



---
Want something a bit different from the standard gift? Create your personalized gift in 3 simple steps. 1. Pick your gift, 2. Add your message and 3. Send the gift.
About A Quarter Of
A Quarter Of is a company focused on providing sweets to customers. The company hopes to bring that old-fashioned sweetshop idea and execute it online. Customers are able to browse a large amount of sweets from wrapped candies to lollipops on the website and get the products delivered to their home.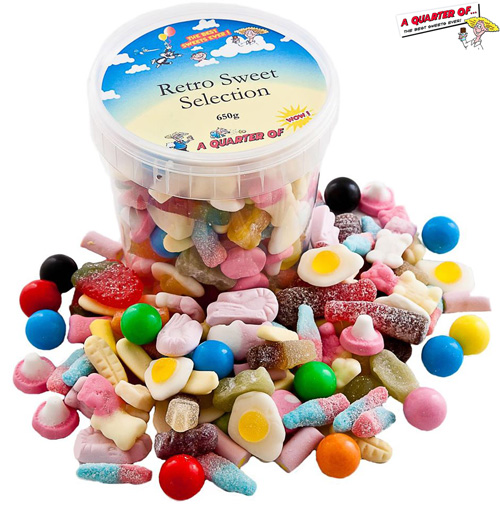 The company has been able to grow in the past few years and it has taken its place as one of UK's favourite online sweetshops. The company has delivered an impressive half a million orders since its foundation in 2002.
You can also buy sweets as gifts at the A Quarter Of website. If the sweets are going to be a part of a tea party, it is very important that you own quintessential matching cups and plates. Speaking of which, contemporary tea sets with fine artistic work will surely do the trick. You can purchase them and save a good chunk of your budget with an additional discount at Royal Albert Hall. The website is able to deliver corporate companies as well and you could even consider ordering your wedding favours through the website.
International Reach
You can enjoy the A Quarter Of sweets even outside the UK. The company has a list of countries available to select for a delivery and you can contact the company even if you can't find your country from the delivery list. Please remember that you may need to pay import duty on the delivery.
Range of Products
A Quarter Of website is focused on delivering all sorts of sweets to customers. The range of sweets available is quite impressive and the company constantly adds new sweets to its collection. The product range is divided in the following categories:
Boiled and crunchy sweets – animal shapes, lollies, liquorice, etc.
Chewy and soft sweets – fruit flavours, sugar free, liquorice, etc.
Chocó heaven sweets – bars, coins, white chocolate, etc.
Penny and fun sweets – sticks whistles, etc.
Space dust and sherbet sweets – crystals and popping candy, etc.
Gifts – you can find products from the above categories also in special gift hampers and boxes.
A Quarter Of can also provide you with specialised candy in case you have food allergies. For instance, you can find gluten free, sugar free and gelatine free candies.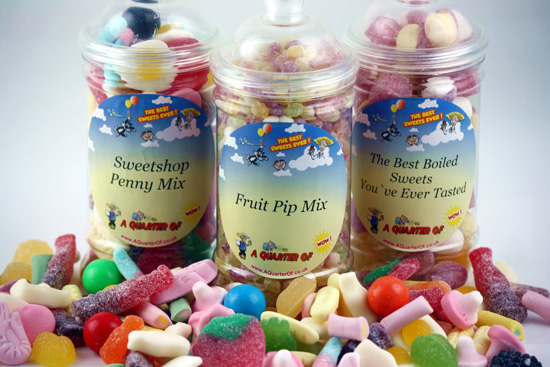 Top Categories
The company provides a large range of products and there are a number of most popular products. These include the following:
Floral, hearts and romantic sweets
Animal and insect sweets
Toffee and fudge
Shopping on the website is also very easy, as you can use a number of different categories to find the products you want. You can find products according to shape and flavour, but also shop by the colour of the sweets!
Featured Brands
You can also find a number of big sweet brands from the company's collection. The brand list includes the following:
Aaron Candy
Bassetts
Cadburys
Dobsons
Fun Kandy
Gummi Zone
Haribo
Hersheys
Kandy King
Lions
Nestle Rowntree
Olympic
Park Lane Confectionary
Tidmans
Vidal
Customisation
The gift section on the website offers you plenty of options for customising your candy. You could, for example, order personalised wedding favours from the website. This could be something like a chocolate bar that you can have with your images and names printed on top.
There are also personalised gift hampers you can buy. These boxes allow you to pick the sweets that you want.
Special Offers
Black jacks from £2.17
Milk Gums for £2.97
Get Chocolate coins for as low as £1.97
Fizzy Cola bottles @ £2.37
You can regularly check our website for more food & drink category for latest offers from retailer like Tassimo and Athleat.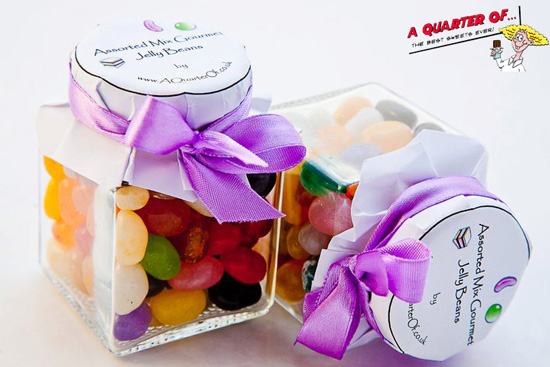 How to Save Using Vouchers
The website also has a number of voucher offers available and making the most of these savings is relatively simple. You just need to have the voucher at hand when you are shopping. During the checkout process, you will see a special box that says "Redeem Code". Write the code in your voucher to this box and click the redeem button. The code will be checked and if valid it is added to your order. You can continue shopping or continue with the checkout.
Check out this exclusive video of packing Retro Sweets Cube - For those of you who just can't decide.
ta-da!http://www.aquarterof.co.uk/retro-sweets-cube-p-151468.html

Posted by A Quarter Of on Thursday, June 28, 2012
Gift Cards
You can also purchase amazing gift vouchers on the website. You can shop for these in the same manner as you would buy the sweets. There are a number of gift cards available from £10 to £50.
The gift voucher can be sent to the recipient from the "Send Gift Voucher Page", which is in the Store Credit section of your Account Information page. From there you can send the gift voucher via e-mail to the recipient. You can also add a short message to the e-mail.
Redeeming the gift card is easy, you just need to follow the instructions for "Redeeming your voucher code" above.
Delivery Policy
The company delivery typically takes 3 to 4 working days from the date of placing your order. Sometimes the stock might not have the specific items, but according to the A Quarter Of website this rarely happens.
You can also select the Guaranteed Next Working Day delivery. You should place your order before 1pm to ensure you receive the order on time. Do note that the next day delivery only means the next working day. Therefore, if you order on Friday or Saturday, the delivery will take place on Monday.
If you want the sweets delivered on Saturday, then you can order with a Saturday delivery. This service might have regional exclusions.
Return Policy
Naturally, as the products are edible, you cannot return the items. If you do, however, find a problem with the products, you can return them within seven days. If the products are faulty due to the company's procedures, you may be entitled to a refund.
Customer Support
A Quarter Of website has a good customer support in place to ensure your shopping experience is as smooth as possible. You can find plenty of information in regards of buying sweets, the delivery service and different ways to pay. Check out the frequently asked questions sections for more information.
Get In Touch
You can also find A Quarter Of sweetshop on social media. The platforms where the company is present include the following:
Contact Information
A Quarter Of
Unit 6
565 Duttons Way
Shadsworth Business Park
Blackburn
Lancashire
BB1 2QR

Customer Care: 01254 262160
E-Mail: customerservices@aquarterof.co.uk