About WHSmith
Staring off as family news agents, WHSmith has been in business for over 200 years! Fast-forwarding to the present day, WHSmith now have over 1,200 stores throughout the UK on the high street, airports, train stations, hospitals and motorway services - making them one of the UK's most loved and successful retailers.

As well as their most-known product offerings in books, stationary and newspapers, WHSmith now offer a whole range of goods on their online store including personalized books, music, video for kids and greeting cards as well as subscriptions for magazines, ebooks and gifts.
Internationally, WHSmith have stores in shopping centers, airports, train stations and hospitals throughout Australia, South East Asia, India and the Middle East.
WHSmith are also known for exclusively stocking books that are featured in the Richard and Judy book club, all of which are shopable online with additional features such as sneak peaks and podcasts as well.
Products, Categories & Brands
You'll find everything you're looking for on the WHSmith website with books, eBooks and Kobo eReaders, Stationery, Computing and Electricals, Art, Craft and Hobbies, Photo Albums and Frames, Cards, Gifts and Party, Toys and Games, Magazines and Entertainment. What's more, under each category, you'll find a whole list of items to browse by and shop, including the option to shop by price!
Once you've found the items you're after, you'll be able to order online and receive your items in no time at all with their delivery options. You can choose from having your order delivered to a store for free, saver delivery that starts at £2.99 (or free with orders over £20) and will be with you in 3-6 working days or finally 1st class starting at £3.99 that will usually be with you the next day. Returns are also accepted within 30 days of receiving them.
As well as a huge collection of books and their own brand stationery, WHSmtih also stock products from Filofax, Bic, Sharpie, Stabilo, Collins, Pukka Pad and Post It. Magazines.co.uk and My Favourite Magazines also provides a range of books and magazines to shop for along with great savings and discounts.
Can't Miss Exclusive Offers
If you're looking for a bargain, then look no further than WHSmith! They not only have great seasonal offers and sales running from time to time, but offer fantastic savings on daily deals and promotions. We've collected together a couple of our favourites below -
Up to 75% off New and Bestselling Books.
eBooks from 99p.
Half price Photo Albums.
Up to 90% off Magazine Subscriptions.
Up to 80% off Kobo eReader Accessories.
Don't forget out their clearance section of great price cuts! Keep up to date with WHSmith's latest offers, products as well as news with the help of its YouTube channel. If you're a big fan of YouTube, you can find videos from WHSmith focusing on behind the scenes details and authors! Check their video out below featuring Zoe Sugg, a.k.a Zoella, and her new book Girl Online.
Redeem Your Savings Code
Are you new to saving online with great offers and discount codes? Fear not, we've got a really great guide of simple steps to help you though your money saving process, just check them out below!
Head over to the WHSmith to browse the products you're after.
Add items to your basket as you go.
When you think you've got it all, check your basket to make sure it's all there.
The click through to the checkout.
This is where any offers may be automatically applied or you will need to enter your discount code.
Check that your payment details are correct as well as your delivery address.
When your order has been submitted, keep an eye out for the delivery and you're done.
WHSmith International
There is an international presence regarding WHSmith. They are now operating in over 1400 stores worldwide. They have around 700 stores in travel locations such as the airports. Every year they serve around 320 million customers worldwide. Everywhere you go, you can find a WHSmith store. There are 19 different countries in which you can find a WHSmith store. Their international business strategy is to work in a partnership or ventures to learn the local taste and demands of the people. That way they infuse their own products along with the local needs. Due to the wide range of goods that WHSmith sells, their stores have become quite a convenient store for the people around the world.

Products On Offer
WHSmith is one place where you can literally find everything you look for. It has a whole variety of products available for its customers. Over in WHSmith you can find things like books, eBooks and Kobo Readers, stationary, computing and electronic things, craft and hobbies, photo albums, cards, gifts, and even toys. It is an all-around shopping store for a person. Each category has a number of different items under it and you can even choose these items based on price.
Once you are done purchasing, you can get them delivered to your home at the cost of a small fee. Buy more than £20 and you will get free delivery. If you are looking for good offers on these products then WHSmith has it covered too. Purchase from WHSmith and you can get various deals like half price Photo Albums, and up to 90% off on magazine subscriptions. You can even get 75% off on new and old Bestselling books.
Gift Cards
WHSmith also offer gift cards! If you're looking for a little something for friends, family or loved ones, you have to option of letting them choose it for themselves by treating them to a WHSmith gift card. Choose from £5 to £100 in a range of designs that are redeemable on the website and select stores too! And, if that wasn't great enough - the Kobo eReaders and books are also available to buy with gift cards too!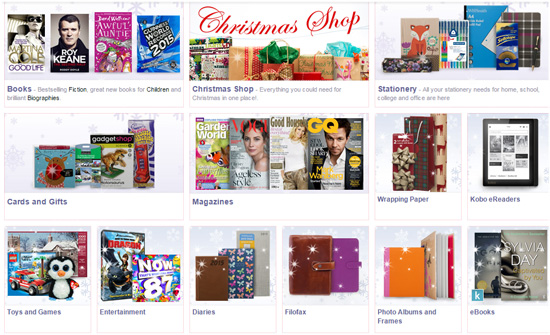 WHSmith on Social Media
And if that wasn't enough, you can also follow WHSmith on all of your favourite social media platforms in order to keep up to date with their products and news, as well as latest offers, discounts and promotions.
Contact WHSmith
WHSmith High Street Limited
Greenbridge Road
Swindon
Wiltshire
SN3 3RX

Costumer Care: 0333 6005000
E-Mail: support@whsmith.co.uk