Waitrose Cellar Discount Codes November 2017
Use our Waitrose Cellar vouchers for a wide range of products and purchase them at incredibly low prices. These Waitrose Cellar discount codes expire soon, so act today and save big.



---
Shop for Spirits & Liquers from Waitrose Cellar and save up to 25% on RRP.



---
Buy wine, champagnes and more with free delivery on orders over £150 available at Waitrose Cellar.



---
Get up to 25% savings on all champagne and sparkling wine available at Waitrose Cellar.



---
Order festive mixed cases from Waitrose Cellar and save up to £42 on RRP.



---
Waitrose Cellar offers up to 1/3 discount on all wines.



---
Be the first to know about new arrivals on range of grapevine you love. At Waitrose Cellar, sign up for more such exclusive offers.



---
Purchase Esprit de Puisseguin for just £12.99 at Waitrose Cellar. Grab this offer as soon as possible.



---
Take advantage of this offer where you can purchase The Cubist Old Vine Garnacha wine for £9.99. Shop now!



---
Now purchase the Bosman Adama White Blend wine for £10.99. Order now from Waitrose Cellar!



---
Shop for Toast the festivities champagne from Waitrose Cellar available with 25% savings.



---
Now you can purchase Arnegui Rioja Viura Blanco for 20% savings from Waitrose Cellar.



---
Pay as low as £23.99 per bottle on Champagne Charles Lecouvey at Waitrose Cellar. Visit site for more such amazing offers!



---
A San Leo Prosecco Brut authentic champagne rich with hard citrus character is now available for £10.99 only at Waitrose Cellar.
About Waitrose Cellar
Waitrose Cellar is an online wine cellar that specialises in retailing different types of wine such as Sparkling/Champagne, Spirits, Whites, Reds and Mixed Cases. They have long-standing partnerships with suppliers and farmers, helping them source quality wines directly.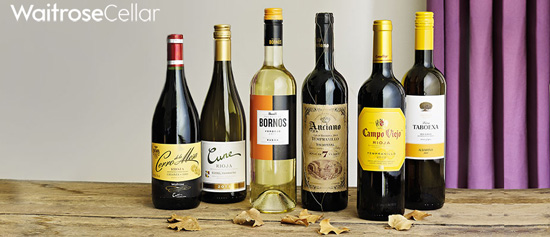 At Waitrose Cellar, they have core beliefs which have helped to shape their company and branch out into different areas. These beliefs are responsible sourcing, championing British food crops, engaging responsibly with the environment, and treating individuals fairly. Since the establishment of The Waitrose Foundation in 2005, the company has worked to improve the lives of small holders and farm workers who grow crops for Waitrose in Ghana, Kenya, and South Africa.
Waitrose has partnerships with other divisions, including:
Waitrose Groceries
Waitrose Flowers
Waitrose Garden
Waitrose Entertaining
Waitrose Gifts
John Lewis
User-friendly Search Options
Shopping at Waitrose Cellar has never been easier. Customers may use the Wine Finder to locate a bottle of wine. They can specify according to the type of wine, country, grape variety and price range.
Top search categories are listed in the top of the web page. These categories are:
All Wines
Pre-mixed Cases
Fine Wine
Spirits
Gifts
Champagne and Sparkling
Advice
Offers
Customization
Customers can customize their wine choice according to the suggestions offered by Waitrose Cellar's experts. Under the "advice" sub heading, customers can choose their wine according to the food, region, and wine type. Based on the tips offered under "Advice", customers can then select their wine from the "Gifts" subheading.
One Stop Wine Store
Waitrose Cellar is an oenophile and wine connoisseur's ideal online portal. The retailer specializes in wines from different regions of the world. Other than the Reds, Whites, Champagnes, and Sparklers offered, the company also offers fair trade wines, award winning bouquets, rare wines and Spirits.
Apart from special offers and selections, the company provides helpful suggestions and guidelines for wine selection, as well as the best pairings with your selection.
Top Deals To Look Forward
10% Off Mixed Case Collections
Save 1/3 on Ara Single Vineyard Sauvignon Blanc
Save 5% on a case of 12 or more Wines
Free standard delivery on all orders
Save 25% on Mumm Cordon Rouge Brut wine
Various savings are offered on a selection of Red Wines such as Waitrose Reserva Chilean Carmenere and Blason du Rhone Chateauneuf-du-Pape. Additional savings and discounts are listed under the "Offers" tab.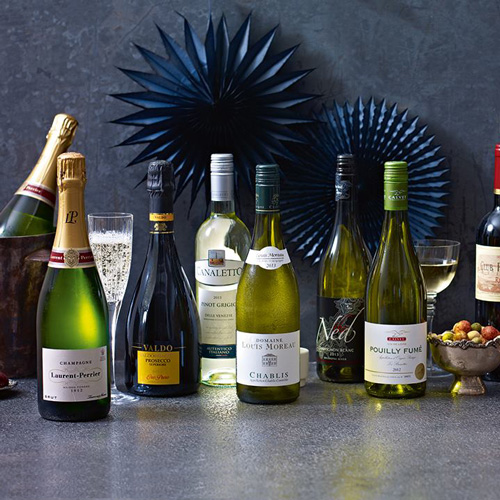 How to Redeem Voucher Code
Visit Waitrose Cellar website.
Place your items into the trolley.
Proceed to checkout and enter the promotional or voucher code in the box provided.
Click Apply and proceed further.
Sign in, set up a new account, or checkout as a guest.
Enter your billing information.
Select your preferred delivery method.
Enter your payment information.
Confirm your order.
Waitrose Cellar offers great advertisements about numerous of its products as well as services.
Club Card/Membership
The myWaitrose club card is a loyalty programme which rewards members in different ways. Members are not required to collect points. A membership allows users to benefit in the following ways:
Monthly Winners: Each month, one myWaitrose member is chosen to win a £5000 John Lewis/Waitrose vouchers. In addition, 10 second place winners are chosen for £500 vouchers. To be eligible, simply use you're myWaitrose card to increase your chances of winning.
Competitions: Simply log in to your myWaitrose account to learn about this month's competition. Prizes include free courses at the Waitrose Cookery School and opportunities at wine tasting.
Monthly Offers: Each month Waitrose Cellar rewards card members with exclusive offers. For example, until March 17, members can receive 20% off on facial tissues sold online or in store. Simply use your myWaitrose card while making the payment and the discount will be applied automatically.
Additional Discount: As a myWaitrose member, you can save 20% on all paninis, flatbreads, lemon tarts and chocolate at Waitrose Cafes.
Delivery Policy
All orders placed online by 9pm on Monday to Friday will be available for collection at your local Waitrose Cellar from 2pm onwards on the following working day. Any orders that are placed after 9pm on a Friday and or before 9pm on a Monday will be ready for collection on Tuesday after 2pm. No minimum purchase amount is required. The service may vary on Bank holidays. Vintage Wine Gifts and Majestic Wine provides similar vouchers with great savings.
Return, Exchange and Replacements
All items may be returned or exchanged within 28 days of being despatched. The item must be in the original condition that it was purchased, that is undamaged packaging. A refund of the delivery charges will also be issued to you if the items sold were faulty or damaged.
Products purchased from Waitrose Cellar's online portal may not be returned to any John Lewis branch. A courier collection service must be used to make all returns. Instructions for returning items are listed on the rear of the delivery information note. Waitrose Cellar will arrange for a courier to come to your home and collect the product, without any charge to you.
Social Media Presence
Contact Info
Waitrose Cellar
Doncastle Road
Bracknell
RG12 8YA
Customer Care: 0800 188 881
E-Mail: waitrosecellar@waitrose.co.uk