Virgin Balloon Flights Discount Codes November 2017
Use our Virgin Balloon Flights vouchers for a wide range of products and purchase them at incredibly low prices. These Virgin Balloon Flights discount codes expire soon, so act today and save big.



---
Enter Code Discount10 at the checkout or use the destination URL to apply code automatically to receive £10 off Virgin Balloon Flights.



---
10% off Virgin Balloon Flight Christmas Gift Package for Two. Use landing page below with product list that applies to this offer. Enter code Christmas10 at checkout. Usual commissions apply. Use artwork in the feed labelled 'Christmas 2017' For any other queries please contact hannahk@virginballoonflights.co.uk



---
Virgin Balloon Flights offers free delivery of tickets. Book now and enjoy balloon rides for less!



---
Enter code Birthday10 at the checkout and receive 10% off either of our birthday gift packages for two. Make their birthday a big one and go up, up and away with someone special. Your sky-high adventure awaits... See you in the skies!



---
Book national flight vouchers starting from £119 per person at Virgin Balloon Flights and get a chance to choose from 100+ UK locations. Check out now and avail this great offer!



---
Book your flight tickets for a balloon ride at Virgin Balloon Flights starting from just £119 for a single person. Visit today for great savings!



---
Fly with Virgin Balloon Flights for less using the latest offers and promotions available. For getting more such offers sign up to twitter and visit the twitter page of Virgin Balloon Flights.



---
Find gift packages containing balloon ride tickets for special occassions like birthdays and anniversaries at Virgin Balloon Flights. Just pay a minimum of £217 for the two!



---
If you're looking to make memories and share a once-in-a-lifetime experience with someone special, the Romantic Gift Packages that let you ride a hot air balloon at Virgin Balloon Flights are a must. Book now for as low as £164!



---
From just £124, Virgin Balloon Flights' fabulous gift packages will give them an extra special flying gift experience they will never forget.



---
Hop into a basket with a loved one at sunrise or sunset with Celebration Gift Packages starting from £164 at Virgin Balloon Flights and see beautiful Britain like you've never seen it before.



---
The Luxury Gift Packages at Virgin Balloon Flights give you a hot air balloon ride experience like never before! Book your package today for a starting price of just £164.



---
Virgin Balloon Flights' national 7 day anytime flight voucher allows you to fly from any of their 100+ launch sites across England, Scotland and Wales from £159.
About Virgin Balloon Flights
Virgin Balloon Flights is a business devoted to providing people around the United Kingdom with balloon flight experiences. The company offers many trips that will bring people around some of the most picturesque spaces around the country.

This company is directly associated with the Virgin Group, a multinational organization run by Sir Richard Branson. The company has been involved with transportation services for years with the Virgin Atlantic airline being one of the most prominent air service providers in the world. The Virgin Balloon Flights service is a special extension of the many flight plans that Virgin has offered all around the world.
Customisation Features
People can choose to adjust their balloon experiences by creating their own special packages. By going to the Buy section on the top of the game, a customer can choose to reserve a particular space within the region and then choose to add different items like gift baskets.
The gift baskets can then be chosen based on the types of gifts that one wants to order. These include gifts like special chocolates, tea products and even assorted types of wine and champagne. Direct Ferries allows people to adjust their many travel around UK and can be attractive to all.
What Is Offered?
The services that are offered by Virgin Balloon Flights are designed to give anyone in the country the opportunity to experience the sights of the United Kingdom from well in the air:
Participants will go on a three to four-hour trip that includes an hour-long flight in a hot air balloon.
The experience will include a champagne toast after landing. A soft drink toast may also be offered to those who would prefer to stick with that option.
There are more than a hundred different launch sites available on these balloon flights. Virgin offers many sites around England and Scotland.
Gift baskets are also available upon landing. These baskets may include all sorts of fine gourmet gifts.
People can also help with the inflation and deflation process through some added guidance during the process.
Transport will also be provided back to the initial launch site so the trip will be a full round-trip experience.
Each participant will receive a certificate of flight that has been signed by the balloon pilot and even endorsed by Sir Richard Branson.
Booking a Trip
A customer can book a trip with ease:
A customer will have to go onto the Virgin Balloon Flights website and then search for a proper launch site.
Information on the dates that a balloon can be reserved for will be listed here. It is typically best to reserve a trip a few months in advance.
The customer can then add extras like gift baskets and champagne activities to one's account.
A proper voucher showing one's reservation can then be prepared or sent to a gift recipient after everything is confirmed and paid for.
Check Out Special Offers
There are many special deals for people to take a look at when choosing balloon travel experiences through the site:
Special gift packages for certain times of the year are available. These include gift packages for graduations, birthdays and weddings. These often include special added gifts to go alongside a balloon ride.
Special gift extras may be added to a reservation. These include small balloons in their own prepared boxes, chocolate boxes, binoculars and assorted gift baskets.
Top Experiences Virgin Balloon Flights offers more than a hundred different launch sites for hour-long flights. These can be searched through right on the main website for the company. The flights are particularly prevalent around the coastlines of the country. There are many popular destinations for flights around the Norwich and Ashford areas on the southeastern part of the country, for instance.
How to Redeem the Voucher Code
Voucher codes can be used on the website as well:
The site will have a spot that says "Got a Flight Voucher?" on the top right corner of the page.
The customer should then sign up for the site or enter in one's login data if applicable.
After this, the customer will be prompted to enter in details on the particular voucher code that one has to use. This code should provide the user with an easy to use discount.
The hot air balloon that this video from Virgin has to offer include many popular options in some of the most picturesque spaces all around the countryside. The experiences can be enjoyed by anyone.
Delivery Policy
Participants can get their email vouchers for their flights shipped online for free. Standard delivery packages can also be available for free with items being sent out within five to seven business days after items are properly ordered. If a person needs to cancel a reservation then the person can contact Virgin Balloon online or by phone to get the reservation one has removed. This can be done if the plans are made well in advance to ensure that it will be very easy for the setup to be designed.
International Reach
The Virgin Balloon company also offers balloon flights in Tuscany. The company works alongside the Ballooning in Tuscany company to offer different solutions for getting a balloon voucher converted into a trip out in Tuscany. Hotel reservations can be made alongside plans to get out into Tuscany for a special balloon ride.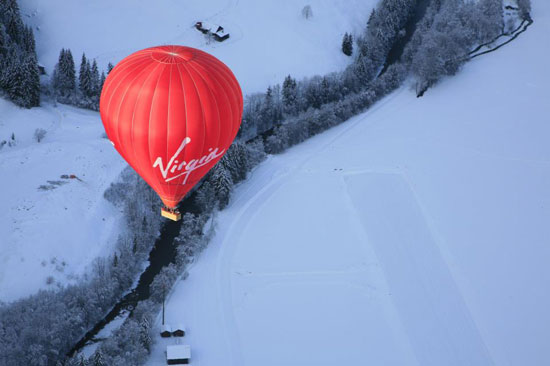 Social Media
Contact Virgin Balloon Flights
Jesson House,
Stafford Court,
Telford,
Shropshire,
TF3 3BG

Phone: 01952 212750
Email: customerservice@virginballoonflights.co.uk