Qatar Airways Discount Codes November 2017
Use our Qatar Airways vouchers for a wide range of products and purchase them at incredibly low prices. These Qatar Airways discount codes expire soon, so act today and save big.



---
Book flights online using Qatar Airways and receive 10% savings on standard price.



---
Why waste time when you can pre-book your car with Qatar Airways. With this offer, you can save maximum on your trip and grab huge savings when booked car in advance.



---
Get travel insurance from Qatar Airways to secure your plans, available for less price.



---
Sign up to the newsletter and receive latest updates and offers from Qatar Airways. Register today for saving on your flights and hotels bookings.



---
Reserve your stay at Bangkok hotels with Qatar Airways available from £15 only.



---
Visit Singapore and reserve your hotels using Qatar Airways available at £109.



---
Book Goa flight tickets from just £438 available at Qatar Airways.



---
Book flight tickets to Bali with Qatar Airways available for just £574.



---
You can book your Melbourne flight tickets online with Qatar Airways for as low as £698.
About Qatar Airways
Qatar Airways has achieved phenomenal growth in the past few years and connects to more than 140 destinations across the world. The popular airline has many awards to its name including the Airline of the Year 2011 and in 2012 in the Skytrax industry audit. So how would you feel if you get to fly in this award winning career at a price that does not burn a hole in your pocket?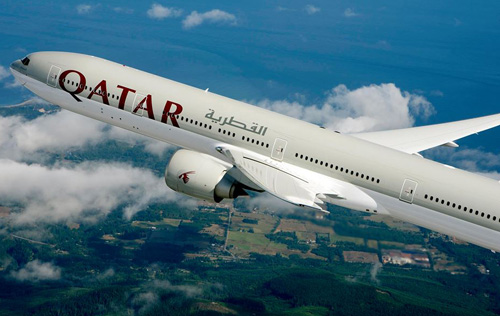 With the stiff competition in the aviation industry, Qatar Airways has managed to retain its spot and delivered stellar 5-star services to its customers. This is the reason as to why since its re-launch in 1997, it has bagged lots of awards and accolades.
Travel with Qatar Airways
How do you save money on your next booking with Qatar Airways and make your flying experience a wonderful one? So if you fly often, you wouldn't be disappointed here at all. Qatar Airways offers you a plethora of services:
Bookings: Other than booking your flights, you can make other bookings such as booking a hotel or a car. You can browse through the countries where you can avail the services.
Managing your bookings: To view the details of your bookings, you can simply enter the requested information such as the booking reference and last name or privilege cub number and number. That's it, you are done!
Online check-in and flight status: The online check-in facility at Qatar Airways makes sure that your experience here is completely hassle-free. Moreover, you can also check the flight status so that you can plan accordingly in case your flight is delayed.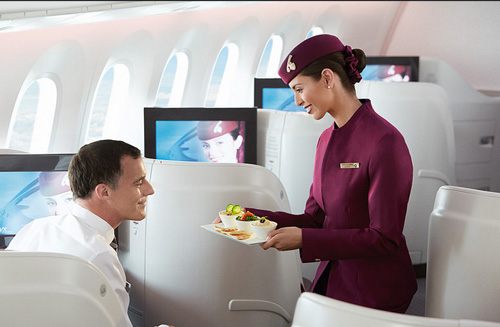 Booking Tickets
Doha and beyond. What family wouldn't want you to visit their home? Qatar Airways are offering great deals from your airport to Doha, a haven for budget-conscious shoppers. But you're in need of a great summer holiday. Qatar will take you to all four corners of the earth from Doha; over 140 destinations no less.
You need to rush! Discount vouchers are available for limited periods only. After you've secured free delivery of your vouchers, you gainmuch more with further discounts. You can leave another bleak season behind and launch your affordable holiday straight from Manchester Airport, down to Doha and then on to any location of your choosing.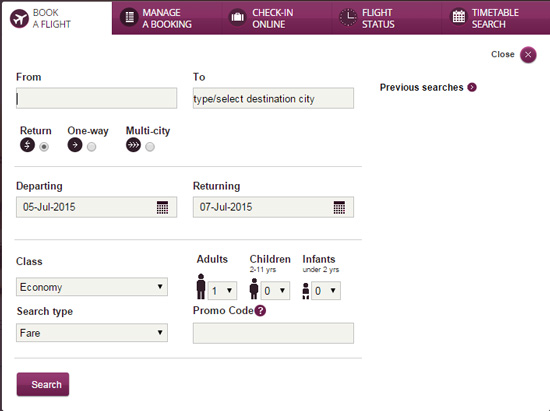 Voucher discounts and the airline's rewarding packages come with so much more than you bargained for. Don't take up too much time browsing through thegreat flight and hotel packages catering for lazy days on the beach, family reunions and group tours. Yes, even cruises.
Two of the world's most popular destinations for summer vacations right now are the exotic locale of Bangkok and beyond and the Mediterranean climate of Perth along the West Coast of Australia. Leave all your troubles behind you at Manchester Airport and head off for exchange and tourist friendly Thailand. Or go visit long-lost relatives all over Australia.
Bookings from Manchester start from just £600 per person while the long flight from London to Perth will save you as much as 730 quid per person. Don't hold back. The further you travel, the better the packages. Ever wanted to see the Far East, Hong Kong and Macau, perhaps? Well, this is your time.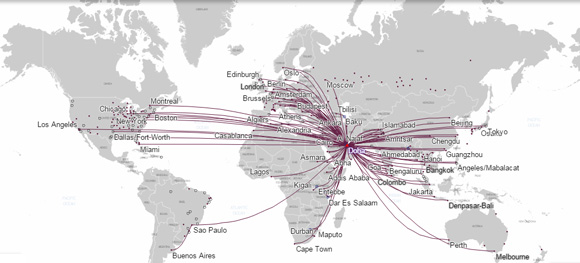 The popular airline has to take account of the high seasonal demands, so they regularly dangle weekly offers and terms, and conditions are valid for a limited period only. Voucher discounts extend to Qatar Airways' Q Vouchers. This means you can accumulate more savings yet for the next time your holidays are due. It never has to be just a once in a lifetime opportunity.
Back to Doha and beyond. The multiple award-winning Qatar Airlines will launch you to more than one hundred and forty destinations across the world. They were named Airline of the year for two years running in 2011 through the Skytrax industry audit. While fuel prices will inevitably skyrocket, Qatar's prices will never burn a hole in your pocket.
Exclusive Offers
You can find amazing deals for flying with Qatar Airways. In fact, loyal customers can make the most of the offers here at the website. So before booking your flight, you can check the following under the Offers section:
Flight deals: It brings you latest fares and offers where you can easily save on your flight bookings.
Privilege club offers: You have lots of lucrative offers under this section and you can even check out the offer of the week. These offers are subject to terms and conditions and have are valid till a particular date.
Holiday offers: Planning a holiday with Qatar airways can indeed be rewarding given its exciting offers. You can browse great flight and hotel packages for beach holidays, family holidays, cruises, tours and so much more!
QVoucher: Craving for some more savings? Then QVoucher is something that you can surely add to your list. This is a booklet of vouchers with great discounts on tickets for specific destinations. So the next time you go travelling, you can browse your Qvoucher booklet to check if there are any vouchers applicable!
Following are some of the best deals you can find at the Qatar Airways website:
Business class - 2 for 1 offer
Fly to Perth or Melbourne from £595
Special offers from £350
Doha year round fares from £605
Redeeming Voucher Code
Discount codes can be easily availed on the website. Here's how you can do it in just a couple of minutes:
Browse the flights and select the ones which suit your schedule and budget.
Log in and proceed to the payment.
When you are on the payment page, you will see a box for your promo code.
Simply paste or type in your promo code or voucher code available.
Make payment using options available for your booking confirmation.
Savings are on your way now! By visiting our site you can also avail similar range of travel vouchers from top retailers like Etihad Airways.
At Qatar Airways you will not only avail outstanding inflight service but a lot many features and convenience. Qatar Airways has brought the entire experience from booking to exploring your destination to your fingertips. At Qatar Airways YouTube channel you get information on their latest products and services. Check out this video about FC Barcelona celebration by Qatar Airways.
Benefits @ Qatar Airways
If you travel regularly, then you can certainly avail the membership benefits of Qatar Airways. For this purpose, Qatar Airways has introduced Privilege Club for its frequent flyers so that they can make huge savings and avail lots of benefits. There are four tiers in the Privilege Club – Burgundy, Silver, Gold and Platinum.
QPoints: As you earn QPoints, you will be eligible to upgrade or renew your membership tier.
Qmiles: You earn these reward miles when your nominated family members travel on Qatar Airways or other partners. You can later redeem these points for upgrades or even as a mode of payment for shopping.
Mobile App
Now booking your flight tickets is even simpler and you need not do it on your laptop. Just download the Qatar Airways mobile app to your Android or iPhone and you are done. Following are the services you can utilise on your mobile app:
Book flights
Make an instant booking
Numerous payment options
Search timetable
Check flight status
Check-in
Email your boarding pass
And much more !
Social Media Presence
Contact Info
London Harrods Ticket Desk
Harrods Lower Ground Floor
87-135 Brompton Road
Knightsbridge, London - SW1X 7XL
For Reservation: 0333 320 2454