About Paperchase
UK's number 1 shopping spot for thrilling and original design-led stationery, Paperchase is the best place to look for stylish stationery, unique greeting cards, distinctive gifts as well as quality art and craft materials. Paperchase is constantly bringing shoppers new products in stores and on website every single week. Many of the items available at Paperchase are created in-house by a team of designers.
Costumer Support
Alongside innovation, Paperchase maintains a great variety of essentials too, tried and tested by loyal customers. And their loyalty is due to excellent customer services provided via a 'Here to Help' section displayed in the dropdown menu. Shoppers can find there useful information about Personalised Cards, Click & Collect and Bulk Orders. The FAQs complete the menu but if still in doubt they can contact Paperchase via email as well.
Featured Products
Paperchase also offers some featured products for branded items.  Whether shoppers are looking for classic style or a new look for their iPhone they can find with the retailer a selection of cases. Also they can update the look of their iPad or Kindle with a protective case from a fantastic range. Additionally, the site showcases its own collections of stationery, gifts and cards like RITZ GLITZ, DARK ROMANCE, COSMIC and many others.
Personalized Touch
When it comes to gifts, Paperchase has introduced a special section 'Gift Ideas' designed to give shoppers some inspiration for a perfect present. Most 'handsome' items are showcased in this section with colourful images to help customers make an easy shopping decision.
Shopping Guide
If new on Paperchase prospective clients should know that shopping with the retailer is quite uncomplicated. Goods can by browsed by category, by price, by gift recipient, by feature, by brand or by colour. Items just have to be added to the shopping bag and then proceed to payment and delivery. For more of such offers and products, you can also check Staples.
International Reach
Paperchase has over 130 stores in the UK and over 30 sites across Ireland, Netherlands, Denmark, France, Germany and the Middle East.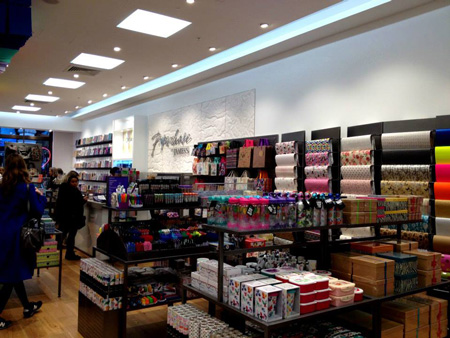 Sister companies
Paperchase also has EU & USA websites offering a huge selection of Paperchase products, treating shoppers to exciting web exclusives, free delivery and more.
Top 3 Deals
Savings are always possible at Paperchase thanks to constant deals and hot bargains. Right now the retailer offers a 3 for 2 shopping option for most of its categories. The best of these deals are:
3 for 2 Metallic Pens.
3 for 2 Charity Cards.
3 for 2 Decorations.
Check out Christmas offers and Outlet
Winter holidays are approaching and the retailer has prepared with some special offers for the occasion.  Shoppers should not miss:
3 for 2 Christmas Wrapping Papers
Gifts Under £5
Also, there is an Outlet page listing the cheapest items on site and there's quite a bunch of them.
The YouTube channel displays a few videos about the retailer's range of items and offers. The most recent videos introduce users into the final instalment of the site's Christmas story this year. This takes shoppers through a variety of decorations and stationery essentials.
How to Save Using Vouchers
Sometimes Paperchase offers promotional codes which are easily redeemable on various office supplies. However they should check the voucher or receipt for offer dates. These types of offers are only available with a valid voucher or code when used online. Also, items placed in shopping basket overnight may not be eligible for promotion at time of checkout if the offer expires in the meantime. To redeem their codes shoppers have to add a desired item in the shopping bag then go to the shopping bag page and insert the promotional code in the correspondent field and click the 'Update' button.  After that they can just continue to checkout and payment.
Delivery Policy
The retailer offers UK shoppers Standard and Next Day delivery as well as Click & Collect options.  Standard delivery takes 2-3 working days. International delivery is charged on a flat rate basis, regardless of the weight of  the parcel and is available for Australia & New Zealand, USA & Canada and of course EU. Returns Policy for Christmas 2014 has been extended. Orders purchased Saturday 1st November - Wednesday 24th December can be returned up to and including Saturday 31st January 2015.
Online shoppers can return items within 28 days of receipt. Refunds will be processed within 7 days of receiving the parcel.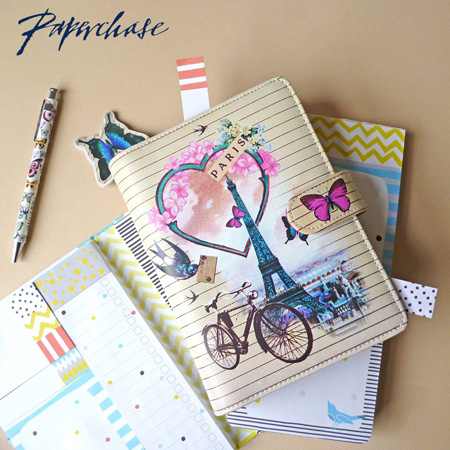 Get Social with Paperchase
Additionally, shoppers can track down the retailers offers on social media platform, getting daily updates with the latest arrivals as well as the hottest promotions.
eGift Vouchers
Paperchase also provides customers with eGift Vouchers they can send to loved ones. Voucher can value from £5.00 to £200.00. Gift vouchers are the perfect way to give a great present without the worry of getting it wrong.
Gift vouchers are not redeemable for cash, non-transferable, valid for one year from the date of issue and are only redeemable with Paperchase online and not in Paperchase stores.
All shoppers have to do is add a gift voucher to basket, complete their and the recipients details plus a message for them and click on 'add to bag'.
Membership Benefits
Shoppers don't have to have an account to shop with the retailer online. To buy without registering, they simply use the express checkout.Registering online does have its advantages and here are some of them:
Make future purchases quicker as shoppers will never need to fill in account information again.
Conveniently track current order status and see order history.
Create reminders in a personal calendar for all special occasions and they will get reminder emails from the website two weeks before the event.
Contact Details
Paperchase, Paperchase.eu and Paperchase-usa.com are operated by Paperchase Products Limited reachable at:
12 Alfred Place
London WC1E 7EB