---
10% Off All Orders Please apply discount at the checkout.
Click to copy & open site



---
My 1st Years is offering summer sale for this season to get up to 50% savings on selected products.



---
Purchase any products from My 1st Years to receive free standard UK delivery within 6-7 business days on all orders over £50.



---
Grab savings up to 50% on latest baby towels and robes available at My 1st Years.



---
Save up to 50% money on baby clothes from My 1st Years which includes daywear, sleepwear and more.



---
My 1st Years provides up to 30% savings on storage items like bag, case, box and more.



---
If you refer a friend to purchase at My 1st Years then they will get 20% savings on their first order.



---
Check the latest arrival of corporate gifts at My 1st Years available for 15% less price.



---
New voucher: FREE Delivery On Orders - One Weekend Only .



---
Purchase this adorable Heston the Husky cuddly dog from My 1st Years for just £12.
About My 1st Years
My 1st Years is a popular website that sells customized products and gifts for baby boys and girls. The site offers clothing, accessories and many other products that can be easily customized.

What My 1st Years Sells?
The products that are sold by My 1st Years include all sorts of fine materials for parents to order:
Baby Clothing: People can order shirts, robes, jumpers and other items for their babies to use.
Footwear: The pieces of footwear that are available for sale include boots, sneakers and other small items.
Blankets: The blankets for sale are made with many comfortable fabrics and textures.
Toys: Teddy bears and other baby-safe toys are available for sale on the site.
Valuable Keepsakes: Photo albums, cufflinks, luggage tags and other valuable can be found on this site.
Top Deals @ My 1st Years
There are a few special deals for use on this site including:
Seasonal apparel is available for 30 to 50% off. These include Christmas, Easter and other forms of apparel based on the season
Trainers and other shoes can be found for 30% off as well
A free luxury gift box is included in every order. This is ideal for preserving any materials one might hold
Free UK Delivery on £40+ Orders
How To Save With Vouchers
You can save with vouchers by using a few simple processes:
Look for a proper discount code; you will typically have to go to a third party site to get such a code.
Place the items that you are looking to order into your shopping cart.
Enter in the voucher code at the proper entry spot near your credit card and delivery information.
The site will inform you as to whether or not the code you use is good and ready to use. You can then check on the site of the site to see if it was accepted by reviewing the cost of your order.
My 1st Years YouTube channel has information on all sorts of fine products that you can use for your baby's needs including videos of babies in many of the different products that the site sells. Watch this video which provides a glimpse of retailers' new website with automated personalisation processes, next day delivery option and free delivery on orders over £30.
How Customization Work?
The customization process for items on this site works with a few sensible steps:
First, you can choose an item that you want to order on the site. You should review the pictures of the item you want to get an idea of where the customized feature on the baby's outfit will be located.
Look at the order section on the right side of the screen to enter in information on the colour of the text you want to use and the font style.
You can then add in the data into the proper text boxes. You can get one to three lines of items to enter in depending on the product that you order.
Click Add to Bag to get this fully customized product into your shopping cart.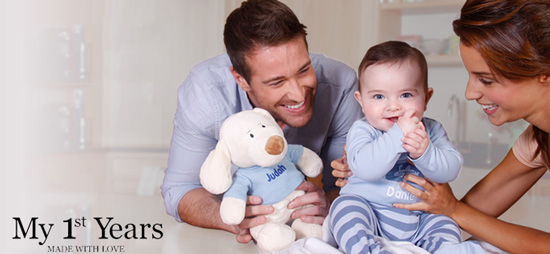 Top Categories
You can order products from many categories including:
Products for boys
Products for girls
Gifts for special occasions like baptisms
Playtime products
Baby shower gifts
Bed and bath products
Categories to Search Through
You can also order products based on many different categories based on:
Price range
Age
Occasion
Colour
Featured Products
Some of the special products that My 1st Years focuses on include:
Baby shoes
Teddy bears
Baby blankets
Bed and bath products
Delivery Policy
My 1st Years will allow customers to get standard delivery on orders over £30. Free nominated delivery is available for orders of £75 or more. Orders under that total can take it in for £6.99. Items that are to be ordered within the UK can take about seven to ten business days to get out if they are ordered with a standard delivery option.
Returns can be taken care of by sending the product back with its original receipt. The company will ensure that the return is managed right and that all costs associated with a return and any replacement will be covered. For similar offers and deals check Mothercare and Babies R Us!
International Reach
Customers outside the UK can get orders delivered for free if they are £75 or higher in value. It can take five to seven business days for items to be delivered in Europe and seven to ten for items outside the continent.
Social Media Spots
Contact Information
My 1st Years
45b Caswell Road
Brackmills Industrial Estate
Northampton
NN4 7PW
UK

Customer Care: 0844 409 7020
E-Mail: support@my1styears.com