lastminute.com Discount Codes November 2017
Use our lastminute.com vouchers for a wide range of products and purchase them at incredibly low prices. These lastminute.com discount codes expire soon, so act today and save big.
About lastminute.com
Since 1998, lastminute.com has been offering five-star offerings at three-star prices. Launched by Brent Hoberman and Martha Lane Fox, lastminute.com aim to give their customers great holidays without huge price tags. Within two years, the site was seeing more than 500,000 users which then lead to the entertainment offerings like theatre tickets and restaurant bookings.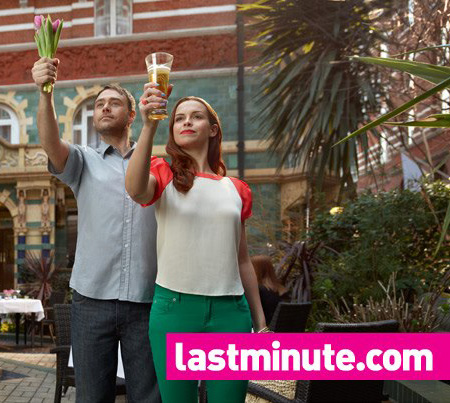 As one of the biggest providers of last minute travel and leisure, lastminute.com was then bought by Travelocity in 2005 and they've continued to grow. lastminute.com even asked independent researchers to ask consumers which European brand they associated with last minute bookings for travel and leisure and 94% of them said lastminute.com
When shopping with lastminute.com, you get the option of purchasing holidays, flights, hotels, spa days, city breaks, meals out, theatre tickets and more.
Vacation Packages
Are you interested in going for a trip any time soon? Then consider the comprehensive variety of special offers available at lastminute.com. The company operates on a global scale, and therefore you can expect deals for almost any country. With that thought in mind, here are some of their deals that you should check out:
Tamra Beach Resort
Those who are looking for a beach type holiday, and want to go in style then Tamra beach resort should be near the top of your list. lastminute.com is offering 7 nights for a price of £499 per person - this is an all-inclusive deal.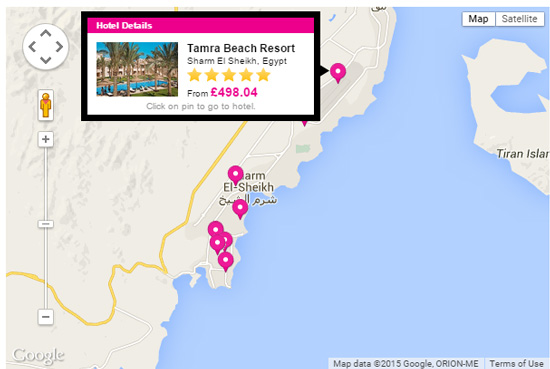 The resort is only a short distance of 92m away from the beach, and therefore will provide great views from your hotel window room. There are also a number of sporting facilities on-site such as tennis and football that you can take advantage of during your stay.
Hotel Tirana Aqua Park
For a water-based adventure holiday consider visiting the Tirana Aqua Park. lastminute.com is offering a discounted price of £499 per person for 7 nights stay. The aqua park offers an opportunity to enjoy a variety of water based rides and state of the art swimming pools.
It is a family based holiday, but can also be suitable for a couple looking for a romantic holiday too. If you have never been before then why not take advantage of the offer from lastminute.com.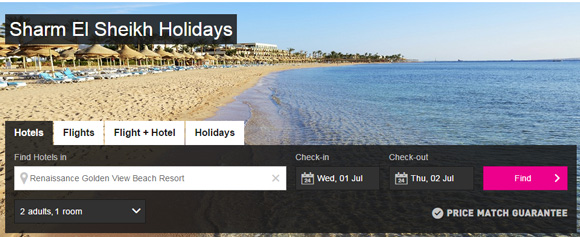 Renaissance Golden View Beach Resort
The Renaissance Golden View Beach Resort offers high quality rooms, the ultimate customer service experience and a luxury setting to have a great holiday. Currently lastmintue.com offers 7 nights stay from £459 per person. After a weeklong stay at this resort you will feel refreshed, relaxed and full of memories of the great time you had.
Top Categories
When you shop with lastminute.com, you'll find it so easy to search and book the travel and leisure you're looking for. Choose from Hotels, City Breaks, Flights, Flight + Hotel, Holidays, Cottages, Cars, Spa, Theatre, Restaurants, Entertainment, Experiences and The Mix.
Special Offers
When it comes to booking a holiday, trip, hotel or flight, it really is rewarding to know that you've saved a little money on what you're booking. So, below are best offers around at the moment to help you save.
City Breaks starting at just £99
All Inclusive holidays starting at just £199
£24 Meal and Show Sale
2 for 1 on Champneys Spa Days
Save 10% on Dublin bookings with the code BEST10

Redeem Your Discount Code
If you're new to using online discount codes, deals and offers, you don't have to worry. Here are some really simple steps for you to follow so that you can start saving when you buy with lastminute.com right away.
First of all, just head over to the lastminute.com website to start your search.
Once you've decided on which holidays, flight or hotel you'd love to buy, make sure you've chosen all of your add ons and extras before proceeding.
Then, you can either keep on browsing if you're looking for multiple things or start the checkout process.
Before you proceed, just make sure that you have everything you need and that you're booking the right things.
Enter all of your booking details as you go.
Then you'll be prompted to enter your discount code, deal or offer. Sometimes, you'll find that it is automatically applied for you here and you will not have to do anything which is great.
Before finishing your booking just make sure that you check over all of the details to make sure that they are correct as it can sometimes be difficult to correct them once you've finished.
Then, simply submit your details and you're booking will be confirmed. You might also want to print of your booking confirmation so that you have a record of your purchase.
lastminute.com is on YouTube. If you're a big user of YouTube, you'll want to subscribe to the lastminute.com YouTube channel right away. You'll find everything from their latest TV adverts, campaigns and destination highlights as well as competitions, promotions and offers. Their latest video features some highlights of their Europe offerings.
Mobile App
If you prefer to do your holiday, trip and planning by using your mobile phone, you're in luck. lastminute.com offers a mobile app that can be used to not only browse holidays, flights and hotels but also purchase them and snap up the best details fast. The mobile app can be downloaded from iTunes and Google Play Store.

Refunds and Cancellations
When you book with lastminute.com, rest assured that you'll be able to get your money back if you need to cancel. Just make sure that you check the terms and conditions of your booking before you buy. Hotels.com and Expedia UK also provides similar vouchers with great savings.
Customer Service
lastminute.com offers an extensive customer service option for its customers. If you need to ask a question, have a problem or even want to find out a little more information before you book you with lastminute.com, you can head over to the Support Home Page on site. There you will find a list of popular FAQs, details on bookings and even how to contact the team.
Social Media Presence
If you love to follow your favourite travel providers on social media, then you're definitely going to want to follow lastminute.com! By following their social channels below, not only will you be able to spot all of their latest services and holidays before anyone else, but you'll also be the first to access their promotions, offers and discounts!
Contact lastminute.com
Dukes Court
Duke Street
Woking
Surrey
GU21 5BH

Customer Care: 0800 083 4000
Contact form available on website.