---
Purchase any product from Chocolate Trading Company and you will receive 10% savings on your order.



---
Buy luxury chocolates or gifts online from Chocolate Trading Company to receive free delivery on orders over £35.



---
15% Off (excludes sale) excludes sale



---
Sign up for Chocolate Trading Company's email list and receive 10% savings on your orders.



---
Purchase different types of chocolate gifts for all occasions, available under £15 at Chocolate Trading Company.



---
From Chocolate Trading Company, you can collect 1 loyalty point with every £1 spent of worth 1p per point so that you can use it for your future orders.



---
At Chocolate Trading Company, you can find bundle offers to get callebaut, milk, dark and white chocolate chips for £21.07!



---
Add a free tag line along with a personal message at checkout to get a free gift message with all your orders from Chocolate Trading Company.



---
Find out the great selection of dinner party chocolate gifts available from £4.75 at Chocolate Trading Company.



---
Chocolate Trading Company provides alcohol free chocolates without reducing quality from just £0.13!



---
Take advantage of Chocolate Trading Company's special offers to receive best selling chocolates from just £1.95!
About Chocolate Trading Company
The Chocolate Trading Company began trading in 2002 with the aim to provide luxury chocolates from the best chocolate makers in the world to people everywhere. The products offered on the website are not your everyday chocolate bars, as you can't find these gourmet chocolates from the high street.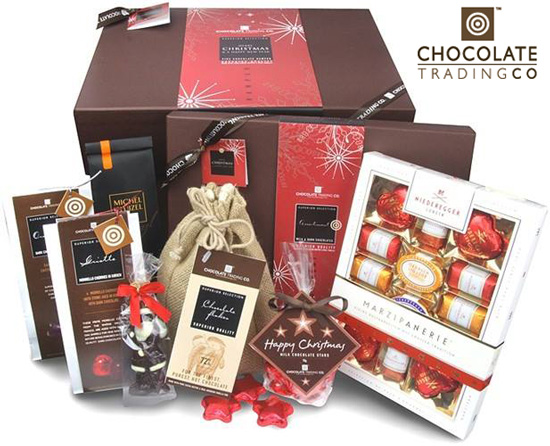 The Chocolate Trading Company website offers you everything from simple treats to yourself, as well as gifts and chocolate bars. There's also a selection of novelty chocolates available.
The chocolates are sourced from quality chocolatiers so you are sure to enjoy a lot of luxury when you buy from Chocolate Trading Company A lot of the products offered on the site have even won international awards.
Product Range
Chocolate Trading Company offers an amazing variety of chocolate products. The main categories on the website include the following:
Chocolates: Chocolate bars, boxes, hampers, chocolate with wine or champagne, hot drinking chocolate, novelty chocolates, and specialties
Gifts: Gift boxes, gift hampers, fun chocolate gifts, greeting cards
Occasion:
Chocolates for special days, including birthdays and anniversaries
Chocolates for seasonal events, such as Mother's Day and Christmas
Chocolates for reminding someone you love them or to thank them
Free From: Chocolates free from alcohol, dairy, gluten, nut free, organic and vegan
Make, Bake and Decorate: Chocolates for baking and different chocolate baking accessories
Top Categories
The most popular categories on the website include the following:
Gourmet chocolate gifts
Officially the best chocolate in the world
Chocolate hearts
Award winning chocolate
Chocolate decorations
You can shop for your favourite types of chocolates at Chocolate Trading Company very easily. You can shop by the type of chocolate, the occasion for the chocolates and even by the price of the chocolate.
Featured Products
Chocolate Trading Company prides itself by the fact that it only works with the best chocolate producers in the world. This mean you canfind all the biggest brands on its collections. These brands include:
Artisan du Chocolat
Callebaut
Chocolat Madagascar
Domori
Michel Cluizel
Original Beans
Wilkie's
Willie's Supreme Cacao
Irresistible Offers
Chocolate Trading Company has some amazing offers available. You can find plenty of deals, with the most special deals of the day:
Chocolate bar bundle offers from £10.45
Gold mini Easter eggs £5.95
Chocolate Santa bell for as low as £0.95
Chocolate gift delivery for £3.95
Milk chocolate space bunny from £3.95
Clearance Section
You can also find some amazing seasonal offers, especially in the clearance sale. For instance, the website is currently selling its Easter chocolates with offers up to 60% off. Share your love to make your loved one feel special with exclusive gifts vouchers from retailers like The Gift Experience, Serenata Chocolates and Prezzybox.
Redeem the Discount Code
Chocolate Trading Company has made it easy to save a little bit extra with voucher codes. You can use the voucher code as you are shopping on the website. Have your code ready when you are heading to the shopping basket.
Once there apply the voucher code to the specific location for redeeming the code. Click apply/redeem and you'll see the saving added to your shopping. You can then continue checking out or shop for a few more chocolates! If you enjoyed using one of these voucher codes, you will love what else you find on our gifts category.
Personalisation
Chocolate Trading Company offers an amazing selection of personalisation options. The options range from printed chocolate bars to novelty items such as personalised coins. These could be a fantastic gift idea for someone or you could even personalise your wedding treats.
Furthermore, the website has a fantastic chocolate blog, which offers plenty of amazing ideas for gifts as well as for baking with chocolate.
Loyalty Points
Every chocolate lover should join the loyalty point scheme from Chocolate Trading Company. You can earn approximately 1 point for every £1 you spend on the website. These can help you buy products for free later on!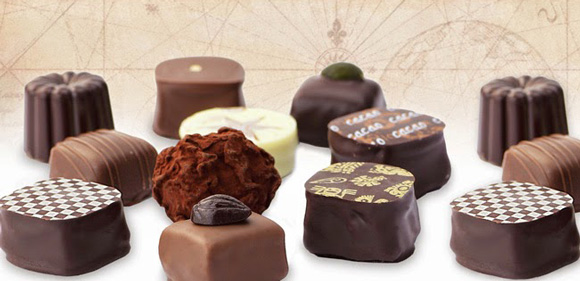 Delivery Policy
There are plenty of different delivery options available at Chocolate Trading Company You can select your deliveries from the following list:
Free standard UK delivery on order over £200
Supersaver 305 working day delivery UK £2.65
First Class 1-2 working day delivery UK £3.40
Standard 2-4 working day delivery UK from £3.95
Next working day UK from £5.95
Saturday delivery UK from £6.95
You can also select a specified date delivery in the UK. Keep in mind that the above prices and availability of the delivery option are subject to changes. Your options also depend on the weight of your order and the time of placing the order.
You can also have the chocolates delivery as a gift. You can track most orders online and contact the company if you have any problems.
International delivery is also available in the following countries and regions:
Ireland, France, Germany, Spain, Italy and rest of Europe
North America
Central and South America
Africa and Asia
Far East and Australasia
Customer Support
Chocolate Trading Company has great customer service options available. You can find out how the delivery works, as well as learn how to make the most of your chocolate treats on the website. The shopping guide can also help you find the best chocolates for your taste and purpose.
Reach through Social Media
Chocolate Trading Company is very active on social media and you should definitely follow them on the following platforms. The company often runs special offers and competitions exclusive on these platforms, so you can enjoy more chocolateby following them.
Contact Chocolate Trading Company
Chocolate Trading Company
The Old School
Byron Street
Macclesfield
Cheshire
SK11 7QA

Customer Care: 01625 508224
E-Mail: enquiries@chocolatetradingco.com